Cake DeFi Is Now Bake: A New Era of Financial Empowerment Begins
Today, we announce an exciting new chapter in the history of our business - and we wanted you to be the first to know. Cake DeFi is now Bake. Along with that, Bake will transition to be one of four verticals under Cake Group. We will now be known as Cake Group, and our retail business, including our mobile Apps will be renamed to Bake.
When we first started out 4 years ago, the name Cake DeFi was a great fit. We were a small team with a big vision: to make DeFi accessible to everyone. Since then, we  have rapidly grown and evolved.

Today our business has verticals across not only retail, but also institutional, R&D and venture capital. So the natural evolution is to elevate the name Cake to represent our group - as Cake Group - which we believe better reflects the nature and scale of our operations today.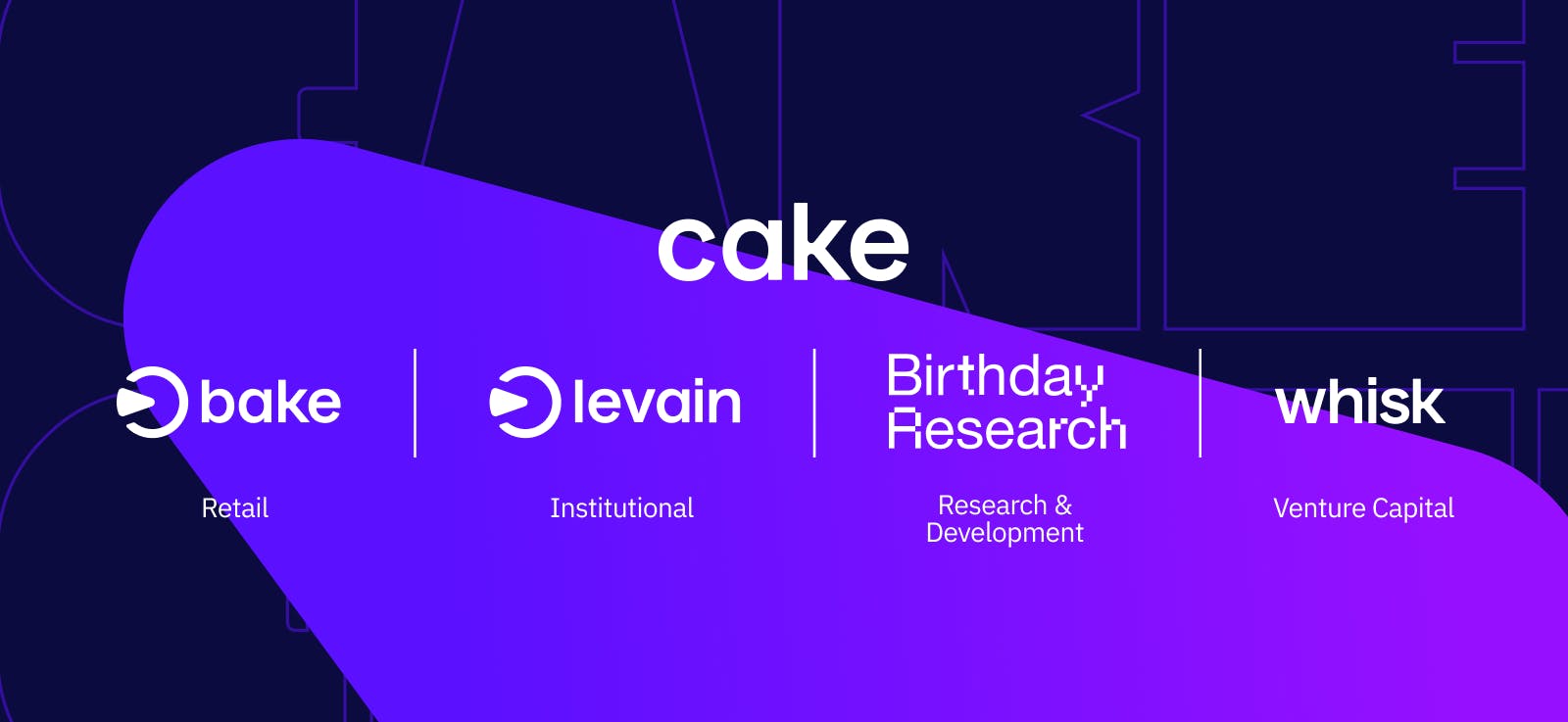 Why the name change?
Bake is a verb that implies action. It symbolizes our commitment to building and creating new products and services that will help you achieve your financial goals, empowering you to feel confident and in control of your financial destiny.
We are excited about the future of Bake, and the renaming is the catalyst for lots of exciting developments to come.
Beyond getting used to a new name and wordmark, over the coming days, you will notice that our website, mobile app, social media and community channels will all get new names and handles. We will be making these changes progressively, so be extra vigilant during this time to ensure that you are interacting with the real Bake. We'll do our best to guide you during this transition period.

Much more exciting, however, is the upcoming launch of our new mobile app which we've built from the ground up to provide you with an improved user experience and interface to give you more control and transparency over your financial destiny. We'll release the first version of the new app very soon, and you can anticipate exciting releases over the coming months.
What's more, supporting our multi-chain ambitions to offer you more services based on the blockchains and projects you love, we're excited to launch staking services for DOT, the native token of Polkadot in July 2023. And we won't stop there.

There is so much to look forward to, this is just the beginning for Bake.

Control your financial destiny. Bake it, make it. Love it.

DISCLAIMER: Please note that the information on this blog and in any articles posted on this blog is for general information only and should not be relied upon as financial advice. Cake Pte. Ltd., Cake DeFi, UAB, and its affiliates (the "Cake Group") are not licensed financial advisers. You may wish to approach your own independent financial advisor before making any decision to buy, sell or hold any product and/or digital assets mentioned in this blog.

Any views, opinions, references, assertions of fact and/or other statements are not necessarily the views held by the Cake Group. The Cake Group disclaims any liability whatsoever that may arise out of or in connection with such statements. Always do your own research before investing in any financial assets and consult a qualified financial advisor if necessary.